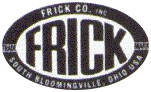 Frickco, Inc. was formed in 1993. After twenty years in the sawmill service and supply business, Jerry L. Albright, President of Frickco, Inc., purchased all of the blueprints, patterns, copyrights and patents for the Frick sawmills and related equipment which had been designed and built by The Frick Company of Waynesboro, Pennsylvania, since the mid-1800's.

Using those proven designs combined with modern technology, Frickco, Inc. has built to order sawmills from the smallest 00 manual mill to the largest TD-40 automatic mill as well as related equipment, including live rolls, log turners, dead rolls, edgers, green chains, live decks, hydraulic feeds, computer setworkds, Model B setworks, air dogs and hydraulic dogs.
Frickco, Inc. keeps a large inventory of parts on hand for immediate shipment and because of the time-tested designs these parts fit mills built from the 1920's to the present.
Frick sawmills range in price from $25,000 for 00-H manual sawmill to $200,000 for the fully equipped TD-40 automatic mill with hydraulic feed and encoder-controlled hydraulic computer setworks .